LeanAcademy (Season 2)
The Lean Office & Administration Toolbox
An Introduction to Lean Office & Administration
The 8 Types of Waste in the Office
Creating a Value Stream Design in the Office
Lean Workflow in the Office
Time Management & Efficiency
Introduction to the Office & Administration Toolbox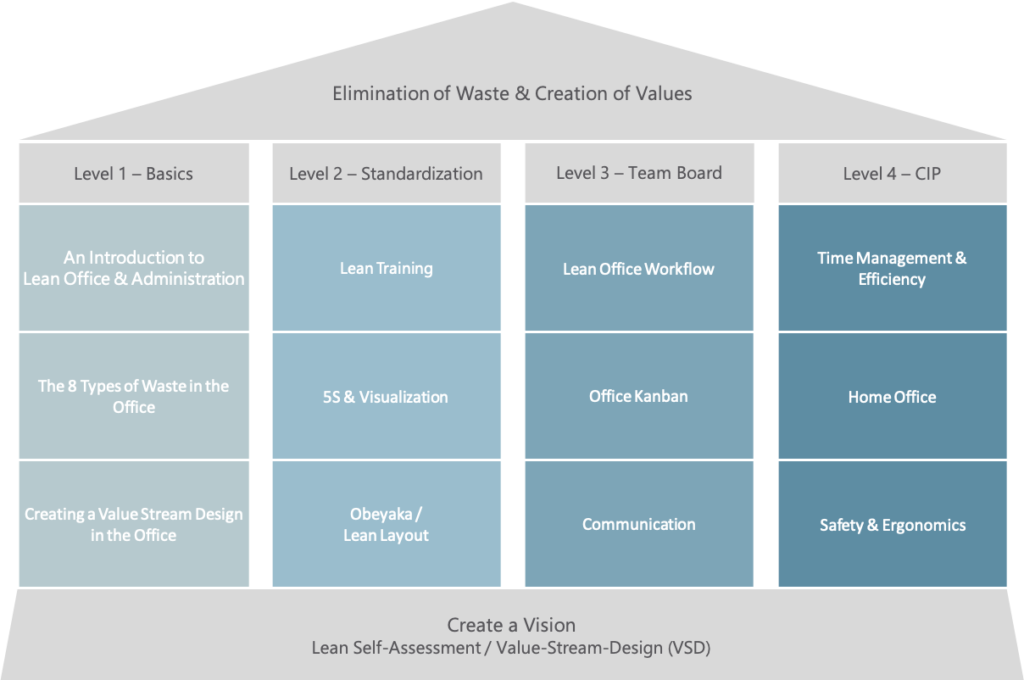 The Toolbox is divided in 4 blocks:
Level 1 – Basics
Level 2 – Standardization
Level 3 – Team Board
Level 4 – Continuous Improvement Process (CIP)
Level 1 – Basics
In the first block, you will first be introduced to the Lean idea in administrative areas.
Then it is important to get to know the types of waste in the office. Recognizing waste in everyday life is the basic building block for identifying potential for improvement.
With the use of the adapted Value Stream Method, we are able to record the current work processes and create a Value Stream Design.
Level 2 – Standardization
Lean is not a one-man show. It is therefore important to first educate employees and colleagues about Lean. With a common understanding, lean activities can be implemented much easier.
5S also plays a major role in the office. In this module you can see how 5S and visualization are applied in the office.
In the third module of the 2nd block we look at a lean layout in offices.
Level 3 – Team Board
In the third block, the main element is the team board. As is already widespread in productions, it serves as a central element for communication and coordination.
Here we look at how the team board can be used in offices and in administration.
Topics include Lean Office Workflow, Office Kanban, Communication.
Level 4 – CIP
The fourth and last block is dedicated to the CIP. Here we look at modules that ensure continuous improvement.
Time management & efficiency is a very important element here.
Digitization results in new work environments. How the home office Lean can be designed is described here.