LeanAcademy (Season 2)
The Lean Office & Administration Toolbox
An Introduction to Lean Office & Administration
The 8 Types of Waste in the Office
Creating a Value Stream Design in the Office
Lean Workflow in the Office
Time Management & Efficiency
How do you implement Office Kanban?
Office Kanban can be separated into two groups of implementation:

Each item of the office supplies inventory gets tracked, stored and reordered based on a Kanban process. Whenever a defined minimum stock level is reached, the Kanban card triggers a new order for refilling the item.

Visualization of tasks for a period of time on a White Board or wall. This helps you or a team to keep track of tasks and visualizes the progress accordingly.
Office Supplies Kanban
Office Supplies Kanban is based on the principle idea of a Kanban loop. Whenever a minimum stock level is reached, the Kanban card is handed over to the purchasing department (or ordered by yourself if you are responsible for replenishing the item).
Processing of Tasks
The Kanban principle can be used to track tasks, monitor and manage tasks within the Team. Either of an entire Team Board and for own usage on a personal Kanban Board. The board can be structured into "To Do's", "In progress" and "Finished" tasks.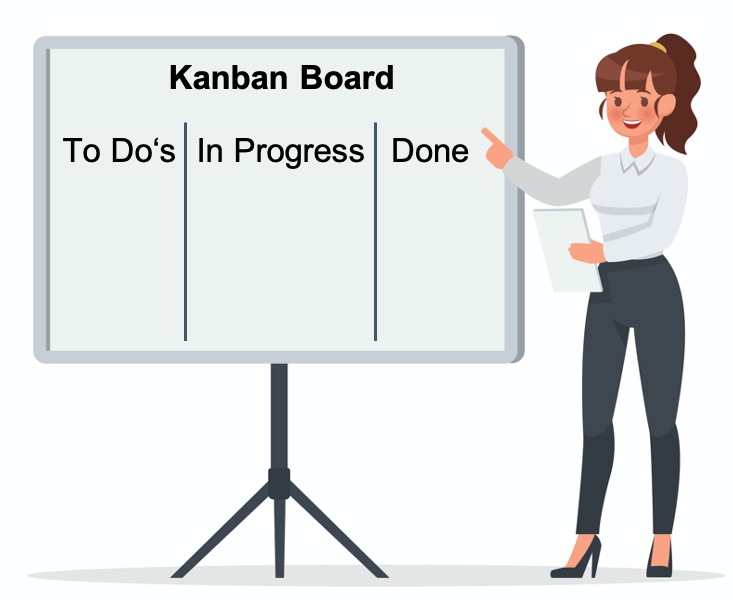 Applying Kanban on the Team Board
During a weekly briefing, the team performance and fulfilled tasks become transparent. Once a week, the finished tasks become collected and the To Do's for the upcoming week will be set.