In any production environment it is mandatory to follow a strictly defined speed. That speed is driven by the selling speed of the product. Hence the takt time is calculated based on the customer demand – not measured! Takt time is the pace of a production and indicates the target time per part.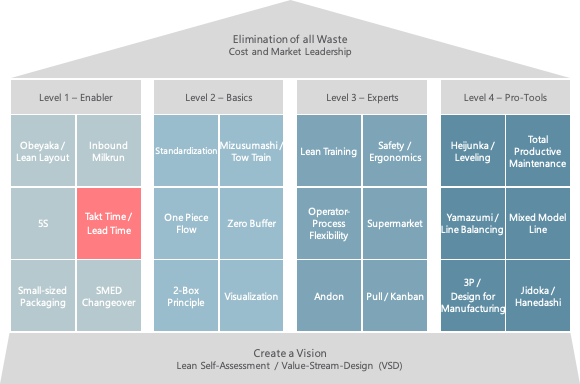 Why do you have to respect a calculated Takt Time?
How do you calculate the correct Takt Time?
Takt time is calculated based on a time span and the quantity of parts which have to be produced during that time
The available working time is the time the operators or machine works. Make sure to deduct all kind of downtime (like breaks, machine set-up, cleaning)
The available working time often is the time per shift deducted by those downtimes (8 hours)
The result is the takt time. In the shown example the takt time is 19 s. Each 19 seconds a part has to be produced
The takt time is the overall target for your production
1.
Define required quantity based on demand
2.
Define available net working time
4.
Align all processes to meet the takt time