The higher a supplier delivery frequency, the lower you can keep the inventory of those parts inside your factory. Usually a higher delivery frequency results in an increase of transportation expenses. One of the most efficient ways to decrease these costs are inbound milkruns.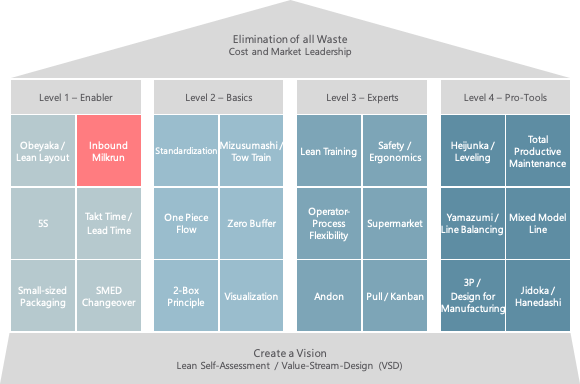 Why do you have to implement a Milkrun?

A milkrun is a good way to lower your inventory and reduce fixed capital inside your factory.
Supplier with a low delivery frequency (e. g. once per week) can increase the frequency as trucks from other suppliers will stop on their route and pick parts several times per week.
Trucks delivering parts from 1 supplier are not always fully loaded. Inbound milkruns will use the truck capacity more efficiently
Hence linking single deliveries in routes of several suppliers, will reduce the overall transportation costs
How do you implement a Milkrun?
First separate suppliers according to distance and transportation volume
Start with close suppliers and high transportation volume per delivery
Do not forget empties management: The order in which you pick parts from your suppliers, defines the order in which to store empty boxes and pallets on the truck and in your factory
Define fixed time schedules per delivery: The more reliable supplier deliveries are, the better these suppliers are for the implementation of milkruns